Tibor Scitovsky, 1910-2002
S-a nascut la Budapesta in Ungaria si a murit pe 1 iunie 2002 la Stanford, California. Tibor Scitovsky s-a licentiat in in drept la Universitatea din Budapesta in 1932 si s-a dus sa studieze la Londra unde a obtinut un master in 1938 la London School of Economics. A fost profesor de economie in diferite epoci la LSE si in diferite universitati americane: Stanford, Yale si Universitatea din California, Santa Cruz.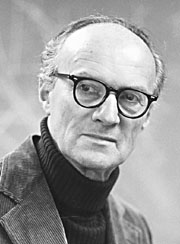 Scitovsky a adus aporturi interesante la Economia Bunastarii. La inceputul decadei anilor '40 a propus "Curbele de indiferenta comunitare" care combinate cu frontiera posibilitatilor de productie ale unei tari permite infatisarea conditiilor de optim Paretian. El este autorul a ceea ce se numeste paradoxul lui Scitovsky ce arata anumite incoerente in cadrul criteriului de compensare al lui Kaldor.
In anii 60, Scitovsky a propus un nou focar al bunastarii. Bunastarea, a spus, s-a confundat cu consumul, calitatea cu cantitatea, progresul cu cresterea. Unele societati obtin o mai mare bunastare cu mai putine resurse. Exista anumite tipuri de consum care sunt "joyless", adica, ce nu produc satisfactie sau bucurie. Economistii trebuie sa dam atentie psihologilor si analizelor necesitatilor umane. Fiinta umana cauta noutati si obtine satisfactie prin risc. Astfel simpla cautare a comoditatii si siguranta in consum rezulta a fi foarte plictisitoare; de aceea fiintele umane disfruta de joc sau practica sporturi si activitati de risc.
---
Lucrari

"A Study of Interest and Capital", 1940, Economica.
"A Note on Welfare Propositions in Economics", 1941, RES.
"Capital Accumulation, Employment and Price Rigidity", 1941, RES.
"A Reconsideration of the Theory of Tariffs", 1942, RES.
"A Note on Profit Maximization and its Implications", 1943, RES.
Welfare and Competition: the economics of a fully employed economy, 1951.
Mobilizing Resources for War: The economic alternatives, in colaborare cu E.S. Shaw y L. Tarshis, 1951.
"Two Concepts of External Economies", 1954, JPE.
Economic Theory and Western European Integration, 1958.
"Standsards for the Performance of Our Economic System", 1960, AER
"On the Principle of Consumer's Sovereignty", 1962, AER
Papers on Welfare and Growth, 1964.
Money and the Balance of Payments, 1969.
Industry and Trade in Some Developing Countries, in colaborare cu I.M.D. Little si M.F.G. Scott,
1970.
"What's Wrong with the Arts is What's Wrong with Society", 1972, AER.
"The Producer Society", 1972, De Economist.
"The Place of Economic Welfare in Human Welfare", 1973, QJE.
"Inequalities: Open and hidden, measured and immeasurable", 1974, Annals of AAPSS.
"Are Men Rational or Economists Wrong?", 1974, in Nations and Households in Economic Growth.
The Joyless Economy: An inquiry into human satisfaction and consumer dissatisfaction, 1976.
"Market Power and Inflation", 1978, Economica.
"Asymmetries in Economics", 1978, Scottish Journal of PE.
"Can Changing Consumer Tastes Save Resources?", 1979, in Economic Growth and
Resources.
"Can Capitalism Survive? An old question in a new setting", 1980, AER.
"Excess Demand for Job Importance and its Implications", 1981, in Wert und Praefernzprobleme in den
Sozialwissenshaften.
"The Desire for Excitement in Modern Society", 1981, Kyklos.
"Subsidies for the Arts: The economic argument", 1983, in Economic Support for the Arts.
"Human Desire and Economics Satisfaction", 1985, Kyklos.
"Psychologizing by Economists", 1986, in MacFadyen, editors, Psychology.
Human Desire and Economic Satisfaction: Essays on the frontiers of economics, 1986.
"Growth in the Affluent Society", 1987, Lloyds BR.
---