Theodore W. Schultz (1902 - 1998)
Premiu Nobel

1979
Theodore William Schultz este un economist nordamerican ce a obtinut Premiul Nobel in Economie in 1979, impartit cu Arthur Lewis, pentru investigatiile sale pioniere in dezvoltarea economica, acordand o atentie speciala problemelor tarilor in dezvoltare.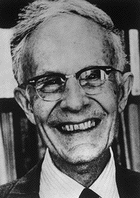 S-a nascut in Arlington, a studiat la Universitatea din Wisconsin, a fost profesor de economie agricola in Iowa si Chicago. In plus fata de specialitatea sa in economia agrara, a lucrat si in economia muncii, unde a avut interesante aporturi in cadrul analizei capitalului uman.
---
Lucrari ale lui Theodore W. Schultz
Measures for Economic development of Underdeveloped Countries, 1951
"Capital Formation by Education", 1960, JPE
"Investment in Human Capital", 1961, AER.
The Economic Value of Education, 1963.
Transforming Traditional Agriculture, 1964.
Investment in Human Capital: The role of education and of research. 1971.
Human Resources, Human Capital: Policy issues and research opportunities. 1972.
"The Value of the Ability to Deal with Disequilibria", JEL, 1975.
"Migration: An economist's view", 1978, in McNeil and Adams, editors, Human Migration.
"Life Span, health, Savings and Productivity", with R. Ram, 1979, Econ Dev Cultural Change.
---