Sir Dennis H. Robertson, 1890-1963
Licentiat la Eton, conferentiar la Trinity College, din Cambridge, lupta in primul razboi mondial, este profesor la Cambridge in perioada dintre razboaie, lucreaza ca functionar in trezorerie in cel de-al doilea razboi mondial, ajunge sa fie numit cavaler. Dar in ciuda unei vieti de gentleman britanic atat de conventional, opera sa este indrazneata si eclectica. Fiind marshalian la Cambridge, cunoaste,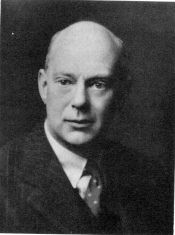 propaga si se inspira din scolile economice ale continentului. Lucreaza in teoriile ciclurilor si in teoria monetara. Polemica sa din 1937 realizata cu John M. Keynes despre relatia dintre economii si investitii este cunoscuta.
Lucrari ale lui Dennis H. Robertson
A Study of Industrial Fluctuations, 1915.
"Economic Incentive", 1921, Economica.
Money, 1922.
The Control of Industry, 1923.
"Those Empty Boxes", 1924, EJ.
Banking Policy and the Price Level, 1926.

Apasati aici pentru a vedea cartile lui

puse in vanzare

"Increasing Returns and the Representative Firm", 1930, EJ.
"Saving and Hoarding", 1933, EJ.
"Some Notes on Mr Keynes's "General Theory of Employment"", 1936, QJE.
"Alternative Theories of the Rate of Interest", 1937, EJ.
"Mr Keynes and Finance: A note", 1938, EJ.
Essays in Monetary Theory, 1940.
"Wage Grumbles", 1949 en Readings in the Theory of Income Distribution.
Utility and All That, 1952.
Britain in the World Economy, 1954.
Economic Commentaries, 1956.
Lectures on Economic Principles, 1957-9.
Growth, Wages, Money, 1961.
Essays in Money and Interest, 1966.
---