Paul M. Sweezy, 1910-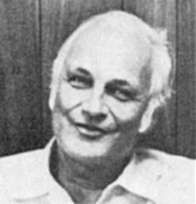 Economist nordamerican marxist. Urmarit si intemnitat in tara sa in epoca macartismului. Colaboreaza la fondarea prestigioasei reviste Monthly Review in 1949.
In anii saizeci, Paul Sweezy propune modelul cererii fractionare pentru a explica stabilitatea acordurilor colusorii in situatiile de oligopol.
---
Apasati aici pentru a vedea cartile lui
Paul M. Sweezy
puse in vanzare
Lucrari de Paul M. Sweezy
"The Thinness of the Stock Market", 1930, AER.
"On the Definition of Monopoly", 1937, QJE.
Monopoly and Competition in the English Coal Trade, 1550-1850, 1938.
"Demand Under Conditions of Oligopoly", 1939, JPE
The Theory of Capitalist Development, 1942.
"John Maynard Keynes", 1946, Science and Society.
Socialism, 1948.
The Present as History, 1953.
Cuba: Anatomy of a revolution, cu L. Huberman, 1960.
Monopoly Capital cu P. Baran, 1966.
Socialism in Cuba, cu L. Huberman, 1969.
On the Transition to Socialism, cu C. Bettelheim, 1971.
The Dynamics of U.S. Capitalism, cu H. Magdoff, 1972.
Modern Capitalism and other essays, 1972.
The Transition from Feudalism to Capitalism, 1976.
The End of Prosperity, cu H. Magdoff, 1977.
The Deepening Crisis of US Capitalism, cu H. Magdoff, 1979.
Four Lectures on Marxism, 1981.
Post-Revolutionary Society, 1981.
Stagnation and Financial Explosion, cu H. Magdoff, 1987.
The Irreversible Crisis, cu H. Magdoff, 1989.