Jan Tinbergen (1903 - 1994)
Premiu Nobel

1969
Economist olandez, a obtinut primul Premiu Nobel in economie care s-a acordat in 1969, impartindu-l cu Ragnar Frisch, pentru a fi dezvoltat si aplicat modele dinamice analizei proceselor economice.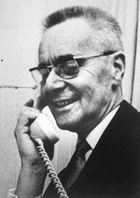 Chiar daca este licentiat in fizica, si-a indreptat curand atentia asupra economiei si s-a transformat in unul din fondatorii econometriei (si revista Econometrica) in anii treizeci. A fost primul care a construit modele complete macroeconomice ale Tarilor de Jos si apoi ale Statelor Unite si Marii Britanii. Din 1955 s-a dedicat studiului si consilierii tarilor mai putin dezvoltate.
Ca socialist, Tinbergen a gandit intotdeauna ca guvernele pot duce la capat politici rationale ce permit dobandirea de conditii economice si sociale optime.
Atentie! A nu se confunda cu fratele sau, Niko Tinbergen, biologul care a primit Premiul Nobel patru ani dupa, in 1973.
---
Lucrari ale lui Jan Tinbergen
"Bestimmung und Deutung von Angebotskurven", 1930, ZfN
"Ein Schifbauzyklus?", 1931, WWA
"The Notion of Horizon and Expectancy in Dynamics Economics", 1933, Econometrica

Apasati aici pentru a vedea cartile lui
Jan Tinbergen

puse in vanzare

"Annual Survey: Suggestions on Quantitative Business Cycle Theory", 1935, Econometrica
Grondproblemen der Theoretische Statistik, 1936.
An Econometric Approach to Business Cycle Problems, 1937.
"Statistical Evidence on the Acceleration Principle", 1938, Economica
Statistical Testing of Business Cycle Theories, 2 volumes, 1939.
"Econometric Business Cycle Research", 1940, RES
"Critical Remarks on Some Business Cycle Theories", 1942, Economerica
"An Acceleration Principle for Commodity, Stockholding and a Short Cycle Resulting from it", 1942, in Lange et al., editors, Studies in Mathematical Economics and Econometrics
"Ligevaegtstyper og Kunjukturbevaegelse", 1944, Nordik Tidskrift for Teknisk Okonomi
"Some Problems in the Explanation of Interest Rates", 1947, QJE
Econometrics, 1951.
Business Cycles in the United Kingdom, 1870-1914, 1951.
On the Theory of Economic Policy, 1952
Economic Policy: Theory and design, 1956.
"La especialidad de los bienes de capital y el periodo de ajuste en la planeación de desarrollo", 1960, Trimestre Economico
"Do Communist and Free Societies Show a Converging Pattern?", 1961, Soviet Studies
"The Case for a Commodity Reserve Currency", in colaborare cu A.G. Hart si N. Kaldor, 1964, UNCTAD
"Spardefizit und Handelsdefizit", 1965, WW
Income Distribution: Analysis and Policies, 1975.
Optimal education, Occupation and Income Distribution in a Simplist Model, 1978.
"Recollections of Professional Experiences", 1979, BNLQR.