Bertil Ohlin (1899 - 1979)
Premiu Nobel

1977
Economist si politician liberal suedez, a obtinut Premiul Nobel in Economie in 1977, impartindu-l cu James E Meade pentru contributia sa la teoria comertului international si miscarile internationale ale capitalurilor.
A studiat la Universitatile din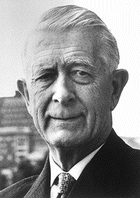 Lund si Stockholm si a fost profesor de economie politica in universitatile din Copenhaga si Stockholm. A fost ministru al comertului si membru al diferitelor comisii internationale. Societatea Natiunilor l-a insarcinat sa realizeze un studiu al depresiunilor mondiale.
Membru important al scolii suedeze, discipol al lui C. Cassel, a polemizat cu J.M. Keynes asupra temei reparatiilor germane dupa primul razboi mondial. Specialist in teme de comert international, a facut cunoscute contraditiile existente intre echilibrul extern si cel intern.
Lucrari
"The Equilibrium Rate of Exchange", 1921, Ekon Tidsk.
Theory of Trade, 1924.
"Ist eine Modernisierung der Aussenhandelstheorie erforderlich?", 1927, WWA.
"Equilibrium in International Trade", 1928, QJE.
"The Reparation Problem: A discussion", 1929, EJ.
"The German Reparations Problem", 1930, Ekon Tidsk
"Die Beziehung zwischen internationalen Handel und internazionalen Bewegungen von Kapital und Arbeit", 1930, ZfN.
The Course and Phases of the World Economic Depression, 1931.
"Protection and Non-Competing Groups", 1931, WWA.
Interregional and International Trade, 1933.
"Mechanisms and Objectives of Exchange Controls", 1937, AER.
The Problem of Employment Stabilization, 1949.
Lucrari:
Apasati aici pentru a vedea cartile lui
Bertil Ohlin
puse in vanzare
Comertul exterior si politica comerciala (1925).
Comertul interregional si international (1933).
---