Arthur Cecil Pigou, 1877-1959
Detasat student si delfin oficial al lui Alfred Marshall, devine liderul neoclasicismului de la Cambridge, aparatorul ortodoxiei marshaliene in prima treime a secolului. Drept consecinta a acestui lucru se transforma in albul preferat al criticilor colegului sau John Maynard Keynes.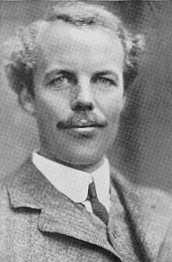 Pigou este considerat fondatorul Economiei bunastarii si principalul precursor al miscarii ecologiste in stabilirea diferentei dintre costurile marginale private si sociale si pledand pentru interventia statului prin intermediul subventiilor si impozitelor pentru corectarea greselilor pietei si internalizarea externalitatilor.
---
Lucrari ale lui Arthur C. Pigou
Robert Browning as a Religious Teacher, 1901.

Apasati aici pentru a vedea cartile

puse in vanzare ale lui

Tariffs, 1903.
"Monopoly and Consumers' Surplus", 1904, EJ
Industrial Peace, 1905.
Import Duties, 1906.
"Producers' and Consumers' Surplus", 1910, EJ.
Wealth and Welfare, 1912.
Unemployment, 1914.
"The Value of Money", 1917, QJE.
The Economics of Welfare, 1920.
"Empty Economic Boxes: A reply", 1922, EJ.
"Exchange Value of Legal Tender Money", 1922, Essays in Applied Economics
Essays in Applied Economics, 1923.
Industrial Fluctuations, 1927.
"The Law of Diminishing and Increasing Cost", 1927, EJ.
A Study in Public Finance, 1928
"An Analysis of Supply", 1928, EJ.
The Theory of Unemployment, 1933.
The Economics of Stationary States, 1935.
"Mr. J.M. Keynes's General Theory", 1936, Economica
"Real and Money Wage Rates in Relation to Unemployment", 1937, EJ.
"money Wages in Relation to Unemployment, 1938, EJ
Employment and Equilibrium, 1941.
"The Classical Stationary State", 1943, EJ.
Lapses from Full Employment, 1944.
"Economic Progress in a Stable Environment", 1947, Economica
The Veil of Money, 1949.
Keynes's General Theory: A retrospective view, 1951.
Essays in Economics, 1952.
---