Grandes Economistas
A - B - C - D - E- F - G - H - I-J-K - L - M - N-O - P - Q - R - S - T-U - V-W - X-Y-Z
Beatrice Potter Webb, 1858-1943
Junto con su marido, Sidney James Webb, Beatrice fué militante socialista en la Inglaterra victoriana, líder de la Sociedad Fabiana y del Partido Laborista Británico y fundadora de la London School of Economics. Muy activa políticamente, elaboró en 1909 un "Informe de la Minoría" en la Commission on the Poor Laws en el que diseñó uno de las primeras propuestas para un sistema de seguridad social y de pensiones del estado que prefiguraba el estado de bienestar que surgiría décadas más adelante.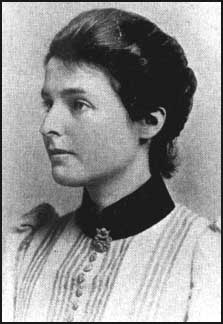 Ver también, en este mismo CD-ROM o sitio web
Ramos Gorostiza, José Luis (CV)
Beatrice Webb y su influencia como economista
Obras de Beatrice Potter Webb
Cooperative Movement in Great Britain, 1891.
Wages of Men and Women: Should they be equal?, 1919.
My Apprenticeship, 1926.
Our Partnership, 1948.
Obras en colaboración con Sidney James Webb
History of Trade Unionism, 1894.
Industrial Democracy, 1897 (2 vols).
English Local Government, 1906-29 (10 vols)
The Manor and the Borough, 1908.
The Break-Up of the Poor Law, 1909.
The Cooperative Movement, 1914.
Works Manager Today, 1917.
The Consumer's Cooperative Movement, 1921.
Decay of Capitalist Civilization, 1923.
Methods of Social Study, 1932.
Soviet Communism: A new civilization?, 1935.