Grandes Economistas
A - B - C - D - E- F - G - H - I-J-K - L - M - N-O - P - Q - R - S - T-U - V-W - X-Y-Z
Jan Tinbergen (1903 - 1994)
Premio Nobel

1969
Economista holandés, obtuvo el primer Premio Nobel de Economía que se concedió, en 1969, compartido con Ragnar Frisch, por haber desarrollado y aplicado modelos dinámicos al análisis de los procesos económicos.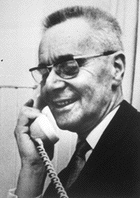 Aunque licenciado en ciencias físicas, pronto desvió su atención hacia la economía y se convirtió en uno de los fundadores de la econometría (y la revista Econometrica) en los años treinta. Fue el primero en construir modelos completos macroeconómicos, de los Países Bajos, y posteriormente, de Estados Unidos y Gran Bretaña. A partir de 1955 se dedicó a estudiar y asesorar a los países menos desarrollados.
Como socialista, Tinbergen siempre pensó que los gobiernos pueden llevar a cabo políticas racionales que permitan conseguir condiciones económicas y sociales óptimas.
¡Precaución! No confundir con su hermano, Niko Tinbergen, el biólogo que recibió el Premio Nobel cuatro años después, en 1973.
Obras de Jan Tinbergen
"Bestimmung und Deutung von Angebotskurven", 1930, ZfN
"Ein Schifbauzyklus?", 1931, WWA
"The Notion of Horizon and Expectancy in Dynamics Economics", 1933, Econometrica
"Annual Survey: Suggestions on Quantitative Business Cycle Theory", 1935, Econometrica
Grondproblemen der Theoretische Statistik, 1936.
An Econometric Approach to Business Cycle Problems, 1937.
"Statistical Evidence on the Acceleration Principle", 1938, Economica
Statistical Testing of Business Cycle Theories, 2 volumes, 1939.
"Econometric Business Cycle Research", 1940, RES
"Critical Remarks on Some Business Cycle Theories", 1942, Economerica
"An Acceleration Principle for Commodity, Stockholding and a Short Cycle Resulting from it", 1942, in Lange et al., editors, Studies in Mathematical Economics and Econometrics
"Ligevaegtstyper og Kunjukturbevaegelse", 1944, Nordik Tidskrift for Teknisk Okonomi
"Some Problems in the Explanation of Interest Rates", 1947, QJE
Econometrics, 1951.
Business Cycles in the United Kingdom, 1870-1914, 1951.
On the Theory of Economic Policy, 1952
Economic Policy: Theory and design, 1956.
"La especialidad de los bienes de capital y el periodo de ajuste en la planeación de desarrollo", 1960, Trimestre Economico
"Do Communist and Free Societies Show a Converging Pattern?", 1961, Soviet Studies
"The Case for a Commodity Reserve Currency", en colaboración con A.G. Hart y N. Kaldor, 1964, UNCTAD
"Spardefizit und Handelsdefizit", 1965, WW
Income Distribution: Analysis and Policies, 1975.
Optimal education, Occupation and Income Distribution in a Simplist Model, 1978.
"Recollections of Professional Experiences", 1979, BNLQR.