Grandes Economistas
A - B - C - D - E- F - G - H - I-J-K - L - M - N-O - P - Q - R - S - T-U - V-W - X-Y-Z
Ludwig von Mises, 1881-1973
Nació en la ciudad de Lemberg, que entonces formaba parte del imperio Austro-Húngaro y que ahora, con el nombre de Lvov, pertenece a Ucrania.
Estudió y se doctoró en la Universidad de Viena, donde fue discípulo directo de Böhm-Bawerk y seguidor de Carl Menger, convirtiéndose en uno de los más destacados y respetados representantes de la Escuela Austriaca.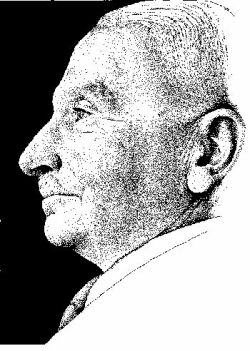 De 1920 a 1934 von Mises mantiene un seminario de economía en la Cámara de Comercio de Viena al que asisten no solo alumnos de su entorno centroeuropeo, Friedrich Hayeck, Fritz Machlup, Gottfried von Haberler, Paul Rosenstein-Rodan y Oskar Morgenstern, sino que también atrae discípulos procedentes de países más alejados como Ragnar Nurkse y Lionel Robbins.
En 1934 acepta un puesto como profesor del Institut Universitaire des Hautes Études Internationales en Ginebra, Suiza, donde permanece hasta 1940, que emigra a los Estados Unidos. Da clases en la New York University, Graduate School of Business Administration donde reconstruye su seminario atrayendo nuevos discípulos como Murray N. Rothbard e Israel M. Kirzner. También visita esporádicamente la Escuela Nacional de Economía de la Universidad Nacional Autónoma de México y otros países latinoamericanos.
Durante toda su vida fue un destacado publicista del liberalismo dedicando muchas páginas a demostrar la inviabilidad del socialismo.
Estas fueron sus palabras:
"La teoría económica no trata sobre cosas y objetos materiales; trata sobre los hombres, sus apreciaciones y, consecuentemente, sobre las acciones humanas que de aquéllas se deriven. Los bienes, mercancías, las riquezas y todas las demás nociones de la conducta, no son elementos de la naturaleza, sino elementos de la mente y de la conducta humana. Quien desee entrar en este segundo universo debe olvidarse del mundo exterior, centrando su atención en lo que significan las acciones que persiguen los hombres" (La acción humana: Tratado de economía, 6ª edición española, págs 111-112 Unión Editorial, Madrid)
Textos breves en castellano de de Ludwig von Mises incluidos en este CD-ROM o sitio web:
En Español
Los enlaces conducen a la reseña de los libros en Unión Editorial, Madrid.
1912 Teoría del dinero y del crédito
1922 El socialismo
1927 Sobre liberalismo y capitalismo
1944 Gobierno omnipotente
1949 La acción humana
1957 Teoría e historia
1973 Autobiografía de un liberal
Otras obras de Ludwig von Mises
The Theory of Money and Credit, 1912.
"Economic Calculation in the Socialist Commonweath", 1920, Archiv fur Sozialwissenschaft und Sozialpolitik.
Socialism: An economic and sociological analysis, 1922.
"Neue Beiträge zum Problem der sozialistischen Wirtschaftsrechnung", 1924, Archiv fur Sozialwissenschaften
"Neue Schriften zum Problem der sozialistischen Wirtschaftsrechnung", 1926, Archiv fur Sozialwissenschaften.
Monetary Stabilization and Cyclical Policy, 1928.
Kritik des Interventionismus, 1929
"The Suitability of Methods of Ascertaining Changes in Purchasing Power for the Guidance of International Currency or Banking Policy.", 1930, League of Nations.
The Causes of the Economic Crisis, 1931
"The Position of Money Among Economic Goods", 1932, en Meyer et al., editores, Die Wirtschaftstheorie der Gegenwart
"The Great German Inflation: Review of F.D. Graham", 1932, Economica
"Senior's Lectures on Monetary Problems", 1933, EJ
"The Austrian Theory of the Trade Cycle", 1936, Bulletin of the Sociéte Belge d'Etudes et d'Expansion
"The Non-Neutrality of Money", 1938
"The Disintegration of the International Division of Labor", 1938, en The World Crisis
Nationalökonomie: Theorie des Handelns und Wirtschaftens, 1940.
"Social Science and Natural Science" 1942, Journal of Social Philosophy & Jurisprudence.
"Autarky and Its Consequences", 1943
Omnipotent Government: The rise of the total state and total war, 1944.
Bureaucracy, 1944.
"The Treatment of 'Irrationality' in the Social Sciences", 1944, Philosophy and Phenomenological Research.
"Monopoly Prices", 1944
"The Clash of Group Interests", 1945, en Bryson, editor, Approaches to National Unity
Planned Chaos, 1947.
"Observations on the Cooperative Movement" 1947 en Cooperatives in the Petroleum Industry
"The Idea of Liberty is Western", 1950, American Affairs
"Middle-of-the-Road Policy Leads to Socialism", 1950, Commercial and Financial Chronicle
Profit and Loss, 1951
Planning for Freedom, and Other Essays and Addresses, 1952.
The Anticapitalistic Mentality, 1956.
"Liberty and Property", 1958, Commercial and Financial Chronicle
Economic Policy: thoughts for today and tomorrow, 1959
"Epistemological Relativism in the Sciences of Human Action", 1961, en Schoeck and Wiggins, editores, Relativism and the Study of Man.
"On Equality and Inequality", 1961, Modern Age
"Observations on the Russian Reform Movement", 1966, The Freeman.
"Capitalism versus Socialism", 1969, The Intercollegiate Review.
Notes and Recollections, 1978.
The Clash of Group Interests and Other Essays, 1978
Economic Freedom and Interventionism, 1990 -- colección de ensayos cortos y fáciles de leer, editados por Bettina Greaves,
Ludwig von Mises en Internet
El
Ludwig von Mises Institute
contiene gran cantidad de recursos relacionados con Ludwig von Mises, incluyendo textos, su biografía y bibliografía y la de muchos de sus seguidores.