Grandes Economistas
A - B - C - D - E- F - G - H - I-J-K - L - M - N-O - P - Q - R - S - T-U - V-W - X-Y-Z
Harriet Martineau, 1802-1876
Hija de una familia de hugonotes franceses, Harriet Martineau recibió una formación muy completa, muy superior a la mayoría de las mujeres de su tiempo. Ella era enfermiza y estaba sorda. La muerte de su padre la obligó a trabajar bordando y escribiendo en periódicos. La lectura de algunas obras de Jane Marcet hizo que se interesara en la Economía Política y la convirtiera en el tema principal de sus escritos.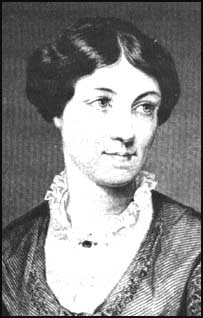 Su trabajo de divulgación lo llevó a cabo, no mediante historias al estilo de Jane Marcet, sino mediante una serie de folletos organizados sistemáticamente. Su mayor influencia es James Mill, cuyo orden expositivo sigue básicamente. La teoría económica que describe es completamente "ricardiana". Considera que la educación general es la salvación de la sociedad. También apoyó activamente el movimiento abolicionista y el establecimiento de las leyes de pobres. Aunque partidaria del laissez-faire y de la imposición directa, también defendió el derecho a la sindicación y a la huelga, postura muy poco habitual entre los economistas de su época.
Obras de Harriet Martineau
Illustrations of Political Economy, 1832-34
Poor Laws and Paupers, 1833
The Tendency of Strikes and Sticks to Produce Low Wages and of Union between Masters and Men to Ensure Good Wages, 1834.
Illustrations of Taxation, 1834.
Society in America, 1837.
Retrospect of Western Travel.
Deerbrook, 1839.
The Hour and the Man, 1841.
Life in the Sickroom, 1844.
Eastern Life, Present and Past, 1848
Household Education, 1848
History of England during the Thirty Years' Peace, 1849–50.
Letters on the Laws of Man's Nature and Development, 1851
The Philosophy of Comte, Freely translated and condensed. 1853
Autobiography, 1837.
Ver, en este mismo sitio web:
Harriet Martineau en Internet