Grandes Economistas
A - B - C - D - E- F - G - H - I-J-K - L - M - N-O - P - Q - R - S - T-U - V-W - X-Y-Z
Jacob Marschak, 1898-1977
Economista matemático. Este judío radical, nació en Rusia y fue educado en Alemania. Socialista menchevique, prisionero del Zar, llega a ser Ministro de trabajo en la efímera república cosaca-menchevique de Tereken, en el Caucaso. Tiene que huir a Alemania donde estudia con economistas marxistas en Berlín y Heidelberg, pasando después al prestigioso (entonces) Instituto de Kiel.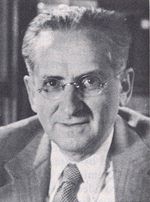 Durante los años veinte y treinta desarrolla sus ideas en el campo marxista: propone que el sistema socialista es más eficiente que el capitalista en la fijación de precios y mantiene que los trabajadores de "cuello blanco" están cayendo económicamente a la clase proletaria.
Cuando Hitler liquida el Instituto de Economía Mundial de Kiel, emigra a EEUU, donde forma parte de la New School for Social Research. Es director de la Cowles Commission de 1943 a 1948 y trabaja en la Universidad de Chicago y en UCLA desarrollando la teoría neo-walrasiana y la econometría.
Su prestigio está basado principalmente en sus trabajos sobre la adopción de decisiones bajo incertidumbre y en la teoría de los equipos y las organizaciones descentralizadas.
Ver en este mismo CD-ROM o sitio web
Marschak, Jacob: Perspectiva general de la teoría del ciclo económico (PDF)
Obras de Jacob Marschak
"Wirtschaftsrechnung und Gemeinwirtschaft", 1923, Archiv fur Sozialwissenschaft
"Der Neue Mittelstand" con E. Lederer, 1926, Grundriss der Nationalokonomik. ("The New Middle Class", 1937, WPA)
"Das Kaufkraft-Argumenten der Lohnpolitik", 1930, Magazin der Wirtschaft.
Die Lohndiskussion, 1930.
Elaztizitat der Nachfrage, 1931.
"Annual Survey of Statistical Information", 1933, Econometrica.
The New Middle Class con Emil Lederer, 1937.
"Money and the Theory of Assets", 1938, Econometrica.
"Assets, Prices and Monetary Theory", con H. Makower, 1938, Economica.
"A Discussion on Methodsen Economics", 1941, JPE.
"Random Simultaneous Equations and the Theory of Production", con W.H. Andrews, 1944 (Part I) y 1945 (Part II), Econometrica.
"A Cross-Section of Business Cycle Discussion", 1945, AER.
"Mathematics for Economists", 1947, Econometrica.
"Statistical Inference from Non-Experimental Observation: An Economic Example", 1949, Proceedings of the International Statistical Conference
"Rational Behavior, Uncertain Prospects and Measurable Utility", 1950, Econometrica.
"The Rationale of the Demand for Money and of `Money Illusion'", 1950, Metroeconomica
"Optimal Inventory Policy", con K.J. Arrow y T. Harris, 1951, Econometrica
"Why "Should" Statisticians and Businessmen Maximize Moral Expectation?", 1951, Proceedings of the Second Berkeley Symposium
"Towards an Economic Theory of Organization and Information", 1954, en Thrall et al., editores, Decision Processes.
"Note on Some Proposed Decision Criteria", con Roy Radner, 1954, en Thrall et al., editores, Decision Processes.
"Elements for a Theory of Teams", 1955, Management Science
"Experimental Tests of a Stochastic Decision Theory" con D. Davidson, 1959, en Churchman y Ratoosh, editores, Measurement Definitions and Theories
"Efficient and Viable Organizational Forms", 1959, en Modern Organization Theory
"An Identityen Arithmetic", con H.D. Block, 1959, Bulletin of the AMS
"Random Orderings and Stochastic Theories of Responses" con H.D. Block, 1960,en Contributions to Probability and Statistics
"Remarks on the Economics of Information" 1960, en Contributions to Scientific Researchen Management
"Theory of an Efficient Several-Person Firm" 1960, en General Systems
"Binary-Choice Constraints and Random Utility Indicators", 1960, en Arrow, Karlin y Suppes, editores, Mathematical Methods in the Social Sciences.
"Economics of Inquiring, Communicating, Deciding", 1968, AER.
"Economics and Information Systems", 1971, en Intriligator, editor, Frontiers of Quantitative Economics.
Economic Theory of Teams, con Roy Radner, 1972.
Economic Information, Decision and Prediction, 1974.
Jacob Marschak en Internet