Grandes Economistas
A - B - C - D - E- F - G - H - I-J-K - L - M - N-O - P - Q - R - S - T-U - V-W - X-Y-Z
Oliver Hart (1948-)
Premio Nobel

2016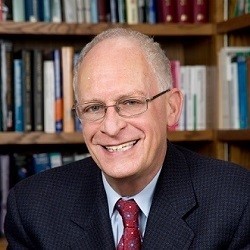 Oliver Simon D'Arcy Hart nació en Londres. Graduado en Matemáticas por el King's College de Cambridge en 1969, obtuvo un master en Economía en la University of Warwick en 1972 y el Ph.D. en Princeton en 1974. Ha impartido docencia en Cambridge, en la London School of Economics, en el Massachusetts Institute of Technology y, desde 1993, en la Universidad de Harvard.
Conjuntamente con Bengt Holmstrom, obtuvo el Premio Nobel de Economía en 2016 "por sus contribuciones a la teoría de los contratos", un campo de estudio enmarcado en la corriente de la Economía del Derecho.
El trabajo de Oliver Hart se centra en el estudio de los contratos incompletos: como es imposible diseñar un contrato que prevea todas las posibles contingencias, lo que hay que hacer es determinar cuál de las partes contratantes podrá tomar las decisiones necesarias en según qué circunstancias. Las aplicaciones prácticas de sus teorías incluyen la conveniencia de unir o segregar empresas o de privatizar servicios como la educación, prisiones o la recogida de basuras y cómo deben ser los contratos que regulen esas relaciones.
Bibliografía
1995 Firms, Contracts, and Financial Structure, Oxford University Press.
1975 "On the Optimality of Equilibrium when the Market Structure is Incomplete", Journal of Economic Theory, December, 418-443
1980 "Takeover Bids, the Free-rider problem, and the Theory of the Corporation" (with Sanford J. Grossman), Bell Journal of Economics, Spring, 42-64
1983 "An Analysis of the Principal–Agent Problem" (con Sanford J. Grossman), Econometrica (January) 7-46.
1983 "The Market Mechanism as an Incentive Scheme," Bell Journal of Economics, 14 (Autumn) 366-82.
1986 "The Costs and Benefits of Ownership: A Theory of Vertical and Lateral Integration" (con Sanford J. Grossman), Journal of Political Economy, August, 691-719.
1988 "One Share-One vote and the Market for Corporate Control" (con Sanford J. Grossman), Journal of Financial Economics, 1988 "Incomplete Contracts and Renegotiation" (con John Hardman Moore), Econometrica 56(4) (July).
1990 "Property Rights and the Nature of the Firm" (con John Hardman Moore), Journal of Political Economy 98(6).
1994 "A Theory of Debt Based on the Inalienability of Human Capital" (con John Hardman Moore), Quarterly Journal of Economics, November, 841-879