Grandes Economistas
A - B - C - D - E- F - G - H - I-J-K - L - M - N-O - P - Q - R - S - T-U - V-W - X-Y-Z
Vernon L. Smith 1927-
Premio Nobel

2002
Ha obtenido el Premio Nobel "por haber establecido los experimentos de laboratorio como un instrumento en el análisis económico empírico especialmente en el estudio de los mecanismos de mercado alternativos".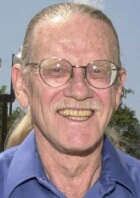 Vernon L. Smith es profesor de Economics and Law en la George Mason University. Estudió ingeniería eléctrica en el Instituto Tecnológico de California (CalTech) y obtuvo el doctorado en Economía en Harvard. Ha sido profesor de Economía en las universidades de Arizona, Purdue, la Brown University y la University of Massachusetts.
Ha sido presidente de la Public Choice Society, la Economic Science Association, la Western Economic Association y la Association for Private Enterprise Education.
Dirección académica:
Interdisciplinary Center for Economic Science
4400 University Drive
MSN 1B2
Fairfax, VA 22030
Phone: 703.993.4850
Fax: 703.993.4851
E-mail: vsmith2@gmu.edu
Publicaciones recientes:
"Reciprocity, Trust and Payoff Privacy in Extensive Form Bargaining," with Kevin McCabe and Stephen Rassenti, Games and Economic Behavior, 24, 1998, pp. 10-24.

"Using Experiments to Inform the Privatization/Deregulation Movement in Electricity," with Stephen Rassenti and Bart Wilson, Cato Journal, 21(3), Winter, 2002, forthcoming.

"Bargaining and Market Behavior, Essays in Experimental Economics" (Collected works). New York: Cambridge University Press, 2000.