Grandes Economistas
A - B - C - D - E- F - G - H - I-J-K - L - M - N-O - P - Q - R - S - T-U - V-W - X-Y-Z
Joseph E. Stiglitz (1943)
Premio Nobel

2001
Joseph Stiglitz obtuvo el doctorado en el MIT en 1966. Profesor en las universidades de Oxford, Princeton y Stanford. En 1979 obtuvo la Medalla John Bates Clark de la American Economic Association. En 1993 fue nombrado miembro del Consejo de Asesores Económicos del Presidente de los Estados Unidos y en 1996, vicepresidente del Banco Mundial. Ha sido editor del Journal of Public Economics, de la Review of Economic Studies y de la American Economic Review.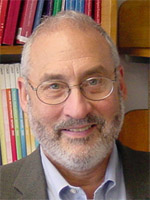 Stiglitz ha sido pionero en la moderna economía de la información, desarrollando conceptos tales como "selección adversa", "riesgo moral" y "asimetrías en la información" que actualmente son centrales en el neo-institucionalismo. Ha hecho también importantes contribuciones a la macroeconomía y la teoría monetaria y a la economía del comercio internacional y del desarrollo.
Obtuvo el Premio Nobel de Economía del año 2001, junto a George A. Akerlof y A. Michael Spence "por sus análisis de los mercados con información asimétrica".
Su libro "Globalización y sus descontentos" ha sido traducido a 20 idiomas y ha resultado ser un best seller internacional.
Coordenadas académicas de Joseph E. Stiglitz:
Professor of Economics and Finance at the Columbia Business School, the Graduate School of Arts and Sciences (Department of Economics) and the School of International and Public Affairs Uris Hall, Room 814
Columbia University
3022 Broadway
New York, NY 10027
Teléfono: +1 (212) 854-1481
Fax: +1 (212) 662-8474
Email:
jes322@columbia.edu
Aquí puede adquirir los últimos libros de Stiglitz en español a través de Amazon:
Libros recientes
Towards a New Paradigm in Monetary Economics, con Bruce Greenwald, Cambridge University Press, 2003.
Globalization and Its Discontents, W.W. Norton & Company, June 2002.
Economics, 3ª edición, con Carl E. Walsh, W.W. Norton & Company, 2002.
Peasants Versus City-Dwellers: Taxation and the Burden of Economic Development, con Raaj K. Sah, Oxford University Press, 2002.
Principles of Macroeconomics, 3ª Edición, con Carl E. Walsh, W.W. Norton & Company, 2002.
Principles of Microeconomics, 3ª edición, con Carl E. Walsh, W.W. Norton & Company, 2002.
The Rebel Within: Joseph Stiglitz and the World Bank, Ha-Joon Chang (ed.), Anthem Press, 2002.
New Ideas About Old Age Security: Toward Sustainable Pension Systems in the 21st Century , editado con Robert Holzmann, World Bank, 2001.
Frontiers of Development Economics: The Future in Perspective, editado con Gerald M. Meier y Nicholas Stern, World Bank, 2000.
Whither Socialism? (Wicksell Lectures), MIT Press, 1996.
The Theory of Commodity Price Stabilization (1981).
Lectures in Public Economics (1980).