Grandes Economistas
A - B - C - D - E- F - G - H - I-J-K - L - M - N-O - P - Q - R - S - T-U - V-W - X-Y-Z
Tibor Scitovsky, 1910-2002
Nació en Budapest, Hungría, y murió el 1 de junio de 2002 en Stanford, California. Tibor Scitovsky se licenció en Derecho por la Universidad de Budapest en 1932 y fue a estudiar a Londres donde obtuvo un master en 1938 en la London School of Economics. Fue profesor de Economía en diversas épocas en la LSE y en varias universidades americanas: Stanford, Yale y la Universidad de California en Santa Cruz.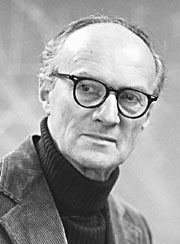 Scitovsky tiene interesantes aportaciones a la Economía del Bienestar. A comienzos de la década de 1940 propuso las "Curvas de Indiferencia Comunitarias" que combinadas con la frontera de posibilidades de producción de un país permite mostrar las condiciones de optimalidad de Pareto. Es también el autor de la llamada Paradoja de Scitovsky que muestra ciertas incoherencias en el criterio de compensación de Kaldor.
En los años 60, Scitovsky propuso un nuevo enfoque para el bienestar. El bienestar, dijo, se ha confundido con el consumo, la calidad con la cantidad, el progreso con el crecimiento. Algunas sociedades obtienen mayor bienestar con menos recursos. Hay ciertos tipos de consumo que son "joyless", es decir, que no producen satisfacción o alegría. Los economistas debemos prestar atención a los psicólogos y a su análisis de las necesidades humanas. El ser humano busca novedades y obtiene satisfacción con el riesgo. Por tanto, la simple búsqueda de la comodidad y la seguridad en el consumo resulta muy aburrida; es por eso que los seres humanos disfrutan con el juego o practicando deportes y actividades de riesgo.
Obras
"A Study of Interest and Capital", 1940, Economica.
"A Note on Welfare Propositions in Economics", 1941, RES.
"Capital Accumulation, Employment and Price Rigidity", 1941, RES.
"A Reconsideration of the Theory of Tariffs", 1942, RES.
"A Note on Profit Maximization and its Implications", 1943, RES.
Welfare and Competition: the economics of a fully employed economy, 1951.
Mobilizing Resources for War: The economic alternatives, en colaboración con E.S. Shaw y L. Tarshis, 1951.
"Two Concepts of External Economies", 1954, JPE.
Economic Theory and Western European Integration, 1958.
"Standsards for the Performance of Our Economic System", 1960, AER
"On the Principle of Consumer's Sovereignty", 1962, AER
Papers on Welfare and Growth, 1964.
Money and the Balance of Payments, 1969.
Industry and Trade in Some Developing Countries, en colaboración con I.M.D. Little y M.F.G. Scott,
1970.
"What's Wrong with the Arts is What's Wrong with Society", 1972, AER.
"The Producer Society", 1972, De Economist.
"The Place of Economic Welfare in Human Welfare", 1973, QJE.
"Inequalities: Open and hidden, measured and immeasurable", 1974, Annals of AAPSS.
"Are Men Rational or Economists Wrong?", 1974, en Nations and Households in Economic Growth.
The Joyless Economy: An inquiry into human satisfaction and consumer dissatisfaction, 1976.
"Market Power and Inflation", 1978, Economica.
"Asymmetries in Economics", 1978, Scottish Journal of PE.
"Can Changing Consumer Tastes Save Resources?", 1979, en Economic Growth and Resources.
"Can Capitalism Survive? An old question in a new setting", 1980, AER.
"Excess Demand for Job Importance and its Implications", 1981, en Wert und Praefernzprobleme in den
Sozialwissenshaften.
"The Desire for Excitement in Modern Society", 1981, Kyklos.
"Subsidies for the Arts: The economic argument", 1983, en Economic Support for the Arts.
"Human Desire and Economics Satisfaction", 1985, Kyklos.
"Psychologizing by Economists", 1986, en MacFadyen, editors, Psychology.
Human Desire and Economic Satisfaction: Essays on the frontiers of economics, 1986.
"Growth in the Affluent Society", 1987, Lloyds BR.