Grandes Economistas
A - B - C - D - E- F - G - H - I-J-K - L - M - N-O - P - Q - R - S - T-U - V-W - X-Y-Z
Edward C. Prescott (1940-)
Premio Nobel

2004
Economista estadounidense recibió el Premio Nobel de Economía conjuntamente con el noruego Finn E. Kydland "por sus contribuciones a la dinámica macroeconómica: la consistencia del tiempo en la política macroeconómica y las fuerzas que regulan los ciclos económicos".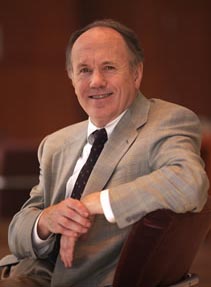 Se graduó en Matemáticas en 1962 en el Swarthmore College, obteniendo posteriormente un master en investigación operativa en 1963 por la Case-Western Reserve University, y doctorándose en Económicas en 1967 en la Carnegie-Mellon University
Trabaja en el departamento de investigación del Federal Reserve Bank of Minneapolis y en el departamento de Economía de la W. P. Carey School of Business en la Arizona State University. Ha sido también profesor de Economía en la University of Chicago (1998–99) y en la University of Minnesota (1980–98 ).
Sus principales contribuciones teóricas se enmarcan en la corriente "Nueva Macroeconomía Clasica". Abandonando las propuestas y conceptos keynesianos, vuelven a mantener las recomendaciones de política económica mediante reglas fijas, rechazando la aplicación de políticas discrecionales.
Página web personal en
http://minneapolisfed.org/research/prescott/
OBRAS:
"Investment Under Uncertainty", con R.E. Lucas, 1971, Econometrica
"The Multi-Period Control Problem Under Uncertainty", 1972, Econometrica
"Equilibrium Search and Unemployment", con R.E. Lucas, 1974, JET
"Rules Rather than Discretion: the inconsistency of optimal plans", con F.E. Kydland, 1977, JPE
"Dynamic Optimal Taxation, Rational Expectations and Optimal Control", con F.E. Kydland, 1980, JPE
"Time to Build and Aggregate Fluctuations", 1982, Econometrica
"General Competitive Equilibria Analysis in an Economy con Private Information", con R.M. Townsend, 1984, IER
"Pareto Optima and Competitive Equilibria con Adverse Selection and Moral Hazard", con R.M. Townsend, 1984, Econometrica
"The Equity Premium Puzzle: A puzzle", con R. Mehra, 1985, JME
"Theory Ahead of Business Cycle Measurement", 1986, FRB Minneapolis QR