A - B - C - D - E- F - G - H - I-J-K - L - M - N-O - P - Q - R - S - T-U - V-W - X-Y-Z
Dale T. Mortensen (1939-)
Premio Nobel

2010
El economista estadounidense Dale T. Mortensen ha obtenido el Premio Nobel de Economía 2010, compartido con Peter A. Diamond y Christopher A. Pissarides, por "sus análisis de mercados con fricciones de búsqueda" es decir, por haber creado modelos matemáticos que describen los procesos de acoplamiento de la oferta y la demanda en mercados tales como la búsqueda de empleo o de vivienda.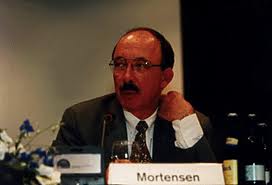 En 1961 Dale Mortensten se graduó en Economía por la Willamette University y en 1967 obtuvo su doctorado por la Carnegie-Mellon University. Ha sido profesor en las universidades Carnegie-Mellon y Northwestern.

OBRAS
D. Mortensen and E. Nagypál (2007), 'More on unemployment and vacancy fluctuations.' Review of Economic Dynamics 10 (3), pp. 327–47.
D. Mortensen (2005), Wage Dispersion: Why Are Similar Workers Paid Differently?, MIT Press.
K. Burdett and D. Mortensen (1998), 'Wage differentials, employer size, and unemployment.' International Economic Review 39, pp. 257–73.
D. Mortensen and C. Pissarides (1994), 'Job creation and job destruction in the theory of unemployment.' Review of Economic Studies 61, pp. 397–415.
D. Mortensen (1986), 'Job search and labor market analysis.' Ch. 15 of Handbook of Labor Economics, vol. 2, O. Ashenfelter and R. Layard, eds., North-Holland.
D. Mortensen (1982), 'Property rights and efficiency of mating, racing, and related games.' American Economic Review 72 (5), pp. 968–79.
D. Mortensen (1982), 'The matching process as a non-cooperative/bargaining game.' In The Economics of Information and Uncertainty, J. McCall, ed., NBER..
D. Mortensen (1972), 'A theory of wage and employment dynamics.' In Microeconomic Foundations of Employment and Inflation Theory, E. Phelps et al., eds., Norton.