A - B - C - D - E- F - G - H - I-J-K - L - M - N-O - P - Q - R - S - T-U - V-W - X-Y-Z
Michio Morishima, 1923-2004
(También escrito Mishio Morishima) Nacido en Osaka y educado en la Universidad de Kyoto. Profesor en la Universidad de Kyoto (1950) y en la de Osaka (1951). Obtiene una ayuda de la Rockefeller Foundation que le permite visitar durante dos años las Universidades de Oxford y Yale. Se traslada definitivamente al Reino Unido en 1968, como profesor de Economía, primero en la Universidad de Essex (1968-70) y finalmente en la London School of Economics.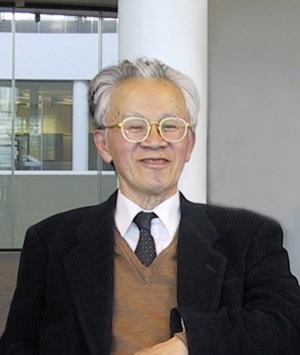 Morishima es un economista matemático. Combina métodos de la teoría del equilibrio general competitivo, con el análisis input-output y de la dinámica económica para estudiar el crecimiento económico. Entusiasta del modelo de expansión económica de John von Neumann, ha dedicado mucho esfuerzo a revisitar teorías de otros economistas -Ricardo, Marx, Walras y Hicks- desde el punto de vista de von Neumann.
Ha ayudado también al conocimiento mutuo entre las culturas económicas anglosajonas y del Japón.
Falleció el 13 de julio de 2004, a los 80 años de edad
Otras obras de Michio Morishima
"On the Laws of Change of the Price System in an Economy which Contains Complementary Goods", 1952, Osaka EP.
"Consumer Behavior and Liquidity Preference", 1952, Econometrica.
"An Analysis of the Capitalist Process of Reproduction", 1956, Metroeconomica.
"Notes on the Theory of Stability of Multiple Exchange", 1957, RES.
"A Contribution to the Non-Linear Theory of the Trade Cycle", 1958, ZfN.
"A Dynamic Analysis of Structural Change in a Leontief Model", 1958, Economica.
"Prices Interest and Profits in a Dynamic Leontief System", 1958, Econometrica.
"Some Properties of a Dynamic Leontief System with a Spectrum of Techniques", 1959, Econometrica.
"Existence of Solution to the Walrasian System of Capital Formation and Credit", 1960, ZfN.
"On the Three Hicksian Laws of Comparative Statics", 1960, RES.
"A Reconsideration of the Walras-Cassel-Leontief Model of General Equilibrium", 1960, en Arrow, Karlin y Suppes, editores, Mathematical Methods in the Social Sciences.
"Economic Expansion and the Interest Rate in Generalized von Neumann Models", 1960, Econometrica.
"Proof of a Turnpike Theorem: The `No Joint Production' Case", 1961, RES.
"Aggregation in Leontief Matrices and the Labor Theory of Value", with F. Seton, 1961, Econometrica.
"Generalizations of the Frobenius-Wielandt Theorems for Non- Negative Square Matrices", 1961, J of London Mathematical Society.
"The Stability of Exchange Equilibrium: An alternative approach", 1962, IER.
Equilibrium, Stability and Growth: A multi-sectoral analysis, 1964.
"A Refutation of the Non-Switching Theorem", 1966, QJE.
"A Few Suggestions on the Theory of Elasticity", 1967, Keizai Hyoron
Theory of Economic Growth, 1969.
"A Generalization of the Gross Substitute System", 1970, RES.
"Consumption-Investment Frontier, Wage-Profit Frontier and the von Neumann Growth Equilibrium", 1971, ZfN.
The Working of Econometric Models, with others, 1972.
Marx's Economics: A dual theory of value and growth, 1973.
Theory of Demand: Real and monetary with others, 1973.
The Economic Theory of Modern Society, 1973.
"The Frobenius Theorem, Its Solow-Samuelson Extension and the Kuhn-Tucker Theorem", con T. Fujimoto, 1974, JMathE.
Walras's Economics: A pure theory of capital and money, 1977.
Value, Exploitation and Growth with G. Catephores, 1978.
"The Cournot-Walras Arbitrage Resource Consuming Exchange and Competitive Equilibrium", con M. Majumdar, 1978 in Hommage a Francois Perroux.
"The Good and Bad Uses of Mathematics", 1984, in Wiles and Routh, editors, Economics in Disarray.
Economics of Industrial Society, 1984.
Ricardo's Economics, 1989.
Why Has Japan Succeeded? Western technology and the Japanese ethos.
"General Equilibrium Theory in the 21st Century", 1991, EJ.
Capital and Credit: A new formulation of general equilibrium theory, 1992.
"Capital and Growth", 1994, en Homouda, The Legacy of Hicks.
Dynamic Economic Theory, 1996.