Grandes Economistas
A - B - C - D - E- F - G - H - I-J-K - L - M - N-O - P - Q - R - S - T-U - V-W - X-Y-Z
Frederic S. Mishkin (1951 - )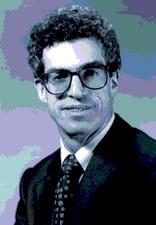 Frederic S. Mishkin es profesor de Instituciones Bancarias y Financieras en la Columbia University y autor del libro de texto más vendido en esta área de conocimiento.
Mishkin está especializado en política monetaria y en su impacto sobre los mercados financieros y la economía agregada.
Obtuvo su doctorado por el Massachusetts Institute of Technology en 1976. Ha sido profesor en las universidades de Chicago, la Northwestern University, Princeton University y Columbia. Ha pertenecido o pertenece al cuerpo de editores de las siguientes revistas: American Economic Review, Journal of Business and Economic Statistics, Journal of Applied Econometrics, la Economic Policy Review del Federal Reserve Bank of New York, el Journal of Money, Credit and Banking, Macroeconomics and Monetary Economics Abstracts, Journal of International Money and Finance, International Finance, Finance India, Economic Policy Review, y el Journal of Economic Perspectives.
Es también investigador del National Bureau of Economic Research y ha trabajado para el Board of Governors del Federal Reserve System, el Banco Mundial, el Fondo Monetario Internacional, el Federal Reserve Bank of New York y el Federal Open Market Committee of the Federal Reserve System. Es profesor honorífico de la Universidad Popular de China en Renmin.
Obra
The Economics of Money, Banking and Financial Markets, 6th Edition (Addison Wesley Longman, 2001)
Inflation Targeting: Lessons from the International Experience (Princeton University Press, 1999), en colaboración con otros.
Financial Markets and Institutions, 3rd edition (Addison Wesley Longman, 2000),
A Rational Expectations Approach to Macroeconometrics: Testing Policy Ineffectiveness and Efficient Markets Models (University of Chicago Press, 1983)
Coordenadas:
Graduate School of Business
Columbia University
Department of Finance and Economics
Uris Hall 619
3022 Broadway
New York, NY 10027
Teléfono: 212-854-3488
Fax: 212-316-9219
e-mail: fsm3@columbia.edu