Vernon L. Smith 1927-
Premiu Nobel

2002
A obtinut Premiul Nobel "pentru a fi stabilit experimente de laborator ca un instrument in analiza economica empirica in special in studierea mecanismelor pietelor alternative"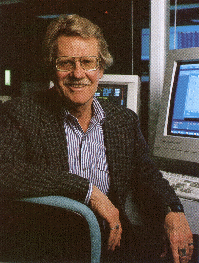 Vernon L. Smith este profesor de Economics and Law la George Mason University. A studiat ingineria electrica la Institutul Tehnologic din California (CalTech) si a obtinut doctoratul in Economie la Harvard. A fos profesor de Economie la universitatile din Arizona, Purdue, la Brown University si la University of Massachusetts.
A fost presedintele Public Choice Society, al Economic Science Association, al Western Economic Association si al Association for Private Enterprise Education.
---
Adresa academica:

Interdisciplinary Center for Economic Science
4400 University Drive
MSN 1B2
Fairfax, VA 22030
Phone: 703.993.4850
Fax: 703.993.4851
E-mail: vsmith2@gmu.edu

Publicatii recente:

"Reciprocity, Trust and Payoff Privacy in Extensive Form Bargaining," with Kevin McCabe and Stephen Rassenti, Games and Economic Behavior, 24, 1998, pp. 10-24.

"Using Experiments to Inform the Privatization/Deregulation Movement in Electricity," with Stephen Rassenti and Bart Wilson, Cato Journal, 21(3), Winter, 2002, forthcoming.

"Bargaining and Market Behavior, Essays in Experimental Economics" (Collected works). New York: Cambridge University Press, 2000.