Simon Kuznets (1901 - 1985)
Premio Nobel

1971
Economist nascut la Járkov, Ucraina si nationalizat in Statele Unite, obtine Premiul Nobel in economie in 1971 pentru interpretarile sale empiric fundamentate asupra cresterii economice ce a condus la o noua si mai profunda intelegere a structurii economice si sociale si al procesului de dezvoltare.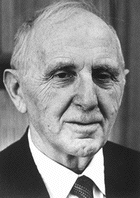 A studiat la Universitatea din Columbia, in New York, unde si-a luat doctoratul in 1926. A fost profesor la Universitatile din Pennsylvania (1936-1954), John Hopkins (1954-1960) si Harvard (1960-1971). Cele mai cunoscute lucrari ale sale sunt studii empirice despre comportamentul pe termen lung de macromagnitudini cu scopul de a contrazice ipotezele keynesiene. Au fost fundamentale aporturile sale pentru teoria determinarii si comportamentul functiei de consum. A contribuit in forma notabila la dezvoltarea tehnicilor contabilitatii nationale la punerea problemelor ce apar in masurarea magnitudinilor economice.
Lucrari
Apasati aici pentru a vedea
cartile puse in vanzare ale lui
Simon Kuznets
"Retardation of Industrial Growth", 1929, Journal of Economic and Business History.
Secular Movements in Production and Prices, 1930.
"Equilibrium Economics and Business Cycle Theory", 1930, QJE.
"Static and Dynamic Economics", 1930, AER.
National Income, 1929-32, 1934.
"Relation Between Capital Goods and Finished Products in the Business Cycle", 1934, in Economic Essays in Honor of W.C.Mitchell.
"Schumpeter's Business Cycles", 1940, AER.
National Income and Capital Formation, 1919-1935, 1941.
National Product Since 1869, 1946.
"Foreign Economic Relations of the United States and the Impact upon the Domestic Economy: Review of long term trends", 1948, Proceedings of American Philosophical Association.
"National Income and Economic Welfare", 1949, Boletin Banco Central de Venezuela.
"International Differences in Income Levels: Reflections on their causes", 1950, Boletin Banco Central de Venezuela.
"National Income and Industrial Structure", 1951, Proceedings of International Statistics Conf.
Economic Change: Selected essays in business cycles, national income and economic growth, 1953.
"Economic Growth and Income Inequality", 1955, AER.
"Quantitative Aspects of the Economic Growth of Nations", 1963, Econ Dev & Cultural Change.
Modern Economic Growth: Rate, structure and spread, 1966.
Economic Growth and Structure: Selected essays, 1965.
Economic Growth of Nations: Total output and production structure, 1971.
"Modern Economic Growth: Findings and reflections", 1973, AER.
Population, Capital and Growth: Selected essays, 1979.
---