Sidney Weintraub (1914-1983)

Weintraub se naste in New York. Incepe sa studieze la London School of Economics, dar al doilea razboi mondial il face sa se intoarca in tara sa, licentiindu-se in final la Universitatea din New York. La inceput lucreaza la New School for Social Research, dar in 1952 se muta la Universitatea din Pennsylvania unde ramane tot restul carierei sale.

Weintraub a fost fondatorul si co-editorul Journal of Post Keynesian Economics impreuna cu Paul Davidson. Curentul post-keynesistilor incearca sa apere si revalorifice stralucitele aporturi ale lui Keynes ce au ramas ascunse in fata deformarii neokeynesismului fata de care modelul IS-LM este cel mai clar simbol. Conceptele keynesiste ale lichiditatii, incertitudinii, relatiile dintre pietele de bunuri si pietele financiare continua sa fie aporturi indispensabile pentru intelegerea functionarii sistemului economic actual.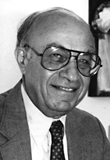 Atentie! A nu se confunda cu Sidney Weintraub, alt prestigios economist, profesor de-a lungul a multor ani al Universitatii din Texas, director al Center for Strategic and International Studies (CSIS), specializat in comertul international, dezvoltarea economica si economiile latinoamericane.
Lucrari
Free Trade Between Mexico and the United States? (1984); Transforming the Mexican Economy: The Salinas Sexenio (1990); and A Marriage of Convenience: Relations between Mexico and the United States (1990); The NAFTA Debate: Grappling with Unconventional Trade Issues (1994); NAFTA at Three: A Progress Report ( 1997); Development and Democracy in the Southern Cone: Imperatives for U.S. Policy in South America (2000); Financial Decision-Making in Mexico: To Bet a Nation (2000)
Apasati aici pentru a vedea cartile puse in vanzare ale ACESTUI
Sidney Weintraub
---
Lucrari

Price Theory, 1949.
Income and Employment Analysis, 1951.
"A Macroeconomic Approach to the Theory of Wages", 1956, AER.
Wage Theory and Policy,
"The Micro-Foundations of Aggregate Demand and Supply", 1957, EJ.
An Approach to the Theory of Income Distribution, 1958.
A General Theory of the Price Level, Output and Income Distribution, 1959.
"Classical Keynesianism: A plea for its abandonnment", in Weintraub, 1961.
Classical Keynesianism, Monetarism and the Price Level, 1961.
Intermediate Price Theory, 1964.
A Keynesian Theory of Employment, Growth and Income Distribution, 1966.
"Keynes and the Monetarists", 1971, Canadian JE
"A Tax-Based Incomes Policy", with H.Wallich, 1971, JEI.
"An Incomes Policy to Stop Inflation", 1971, Lloyds Bank Review.
"Rising Demand Curves in Price Level Theory", 1971, Oxford EP.
"The Full Employment Model: A critique", cu E.Roy Weintraub, 1972, Kyklos.
"Money as Cause and Effect", cu P. Davidson, 1973, EJ.
"The Keynesian Light that Failed", 1975, Nebraska JEB.
"Revision and Recantation in Hicksian Economics", 1976, JEI.
"The Price Level in an Open Economy", 1977, Kyklos.
Keynes, Keynesians and Monetarists, 1978.
Capitalism's Inflation and Unemployment Crisis, 1978.