Sebastian Edwards
Sebastian Edwards, nascut in Santiago de Chile. A studiat la Universitatea Catolica din Chile si s-a licentiat si doctorat in economie la Universitatea din Chicago. Lucreaza in Departamentul de economie al UCLA.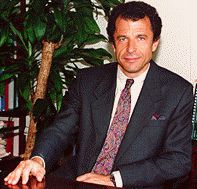 A lucrat la Banca Mondiala ca economist sef pentru America Latina si Caraibe (1993-1996). A lucrat si pentru Banca Inter-Americana de Dezvoltare, FMI si OCDE. Este coeditor al Journal of Development Economics. Principalele sale campuri de studiu sunt Economia Internationala si Economia Dezvoltarii.
E-mail: sebastian.edwards@anderson.ucla.edu
Carti recente ale lui Sebastian Edwards

Anatomy of an Emerging-Market Crash: Mexico 1994, Carnegie Endowment for International Peace, 1997
Labor Markets in Latin America: Combining Social Protection with Market Flexibility, Brookings, 1997.
Crisis and Reform in Latin America: From Despair to Hope, Oxford University Press, 1995.

Lucrari recente accesibile pe Internet:
2000
1999
1998
1997
1996
---