Richard A. Posner (1939-)
Judecatorul Posner este economist si magistrat al Curtii Supreme a Statelor Unite din 1981, pe care a prezidat-o din 1993 pana in 2000.
A terminat studiile in 1959 la Yale, s-a licentiat in drept la Harvard Law School in 1962. A intrat ca profesor in 1968 la Stanford University de unde a trecut la Law School de la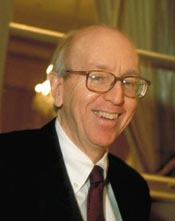 Universitatea din Chicago (1969-1981) la ale carei activitati acdemice si docente participa in mod regulat.
Richard Posner a facut investigatii in domeniul aplicarii teoriei economice diferitelor campuri juridice cum sunt legislatia antimonopolista, reglementarea contractelor comerciale si procedeul judiciar. A propus si a aparat ideea conform careia legea poate fi explicata cel mai bine plecand de la presupunerea ca judecatorii incearca sa promoveze eficienta economica si maximizarea bogatiei ca obiectiv al politicii legale si sociale. S-a transformat astfel intr-unul dintre cei mai importanti lideri ai curentului analizei economice a dreptului (Law and Economics), aplicand analiza economica dreptului familiei, discriminarii rasiale, jurisprudentei si privatiunilor.
Este fondatorul Journal of Legal Studies. A prezidat American Law and Economics Association (1995-96) si este coeditor al American Law and Economics Review. Este doctor onorific al universitatilor din Syracuse (1986), Duquesne (1987), Georgetown (1993), Gante (1995), Yale (1996), Pennsylvania (1997), Brooklyn (2000) si Northwestern (2001)... pana acum.
---
Lucrari ale lui Richard A. Posner
"Taxation by Regulation", 1971, Bell JE
"Theory of Negligence", 1972, J Legal Studies
Economic Analysis of Law, 1973
"Economic Justice and the Economist", 1973, Public Interest.
"The Social Costs of Monopoly and Regulation", 1975, JPE
Antitrust Law: An Economic perspective, 1976.
"Legal Precedent: a theoretical and empirical analysis", cu W.Landes, 1976, J Law Econ
"Salvors, Finders, Good Samaritans and Other Rescuers", cu W. Landes, 1978, J Legal Studies
"An Approach to the Regulation of Bank Holding Companies", cu F. Black y M.H. Miller,1978, J of Business
"Utilitarianism, Economics, and Legal Theory", 1979, J Legal Studies
"Joint and Multiple Tortfeasors", with W. Landes, 1980, J Legal Studies
"Ethical and Political Basis of the Efficiency Norm in Common Law Adjudication", 1980, Hofstra Law Rev
The Economics of Justice, 1981.
Sex and Reason, 1992
Aging and Old Age, 1995
The Problematics of Moral and Legal, 1997
An Affair of State: The Investigation, Impeachment, and Trial of President Clinton, 1997
---