Joseph E. Stiglitz (1943)
Premiu Nobel

2001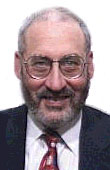 Stiglitz a obtinut doctoratul la MIT in 1966. Profesor la universitatile din Oxford, Princeton si Stanford. In 1979 a obtinut Medalia John Bates Clark de la American Economic Association, si in 1993 a fost numit membru al Adunarii Consilierilor Economici ai Presedintelui Statelor Unite, iar in 1996 vicepresedinte al Bancii Mondiale. A fost editor al Journal of Public Economics, Review of Economic Studies si American Economic Review.
A obtinut Premiul Nobel in Economie in 2001 impreuna cu George A. Akerlof si A. Michael Spence "pentru analizele sale asupra pietelor cu informatii asimetrice".
Lucrari
"Information and Competitive Price Systems," American Economic Review, May 1976.

Lectures in Public Economics (1980),

The Theory of Commodity Price Stabilization (1981).
---