John Maurice Clark, 1884-1963
Nascut in Northampton, Massachussets, in noiembrie 1884. A fost fiul unui important economist: John Bates Clark. Dar spre diferenta de acesta, John Maurice Clark este asociat cu curentul institutionalist american.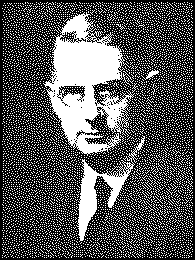 A facut studii la Universitatea din Amherst, la Columbia University, unde si-a luat doctoratul in 1910, si la Universitatea din Chicago. A fost profesor la universitatile din Colorado, Amherst, Chicago si de-a lungul multor ani, la Columbia University. A fost doctor onorific al diferitelor universitati.
Acest detasat prekeynesist, care s-a centrat pe utilizarea modelelor dinamice, domina diferite materii, cum sunt economia industriala si economia bunastarii si a subliniat importanta aplicarii psihologiei si eticii analizei economice.
Si totusi, John Maurice Clark a trecut in istorie in principal pentru a fi slefuit principiul accelerarii, expus in celebrul sau articol "Business Acceleration and the Law of Demand" (1917), publicat in Journal of Political Economy.
Moare in 1963, la Wesport (Connecticut, EE.UU.)
---
Currículum Vitae

1905 A.B. Degree Amherts College
1908 - 1910: Instructor in Colorado College
1910. Ph.D. Columbia University
1910 - 1915: Profesor asociat la Amherts College
1915 - 1922: Profesor asociat de Economie Politica al University of Chicago
1922 - 1926: Profesor la University of Chicago
1926 - (?): Profesor al Columbia University
1934 - 1935: Consultant al National Recovery Administration
1935 L.H.D. Amherts College
1935: Presedinte al American Economics Association (EAE)
1939 - 1940: Consultant al National Resources Planning Board
1940 - 1943: Consultant al Office of Price Administration
1941 LL.D. University of Chicago
1950 - 1951: Membru al Twentieth Century Fund Committee on Economic Stabilization
Alte activitati: Membru al Royal Swedish Academy of Science si al American Philosophical Society. Presedinte de onoare al Internation Economic Association.
---
Lucrari:
Standards and Reasonableness in Local Freight Discriminations (1910)
"Rates for Public Utilities" (1911), AER
"Frontiers of Regulation and What Lies Beyond" (1913), AER
"Review of Pigou's Wealth and Welfare" (1913), AER
"Possible Complications of the Compensated Dollar" (1913), AER
"Some Neglected Phases of Rate Regulation" (1914), AER
"Business Acceleration and the Law of Demand" (1917), JPE
"The Basis of War-Time Collectivism" (1917), AER
"Economic Theory in an Era of Social Readjustment" (1919), AER
"Soundings in Non-Euclidian Economics" (1921), AER
(Studies in) the Economics of Overhead Costs (1923)
Social Control of Business (1926)
Adam Smith, 1776-1926 (1928), University of Chicago Press; con otros autores.
The Costs of the World War to the American People (1931)
"Capital Production and Consumer Taking - A reply" (1931), JPE
Strategic Factors in Business Cycles (1934)
The Economics of Planning Public Works (1935)
Preface to Social Economics (1936)
"Toward a Concept of Workable Competitition" (1940), AER
An Alternative to Sefdom (1948)
Guideposts in Time of Change (1949)
The Ethical Basis of Economic Freedom (1955)
Competition as a Dynamic Process (1961)
---

Actualizat pe 2 octombrie 2002
Biografie elaborata si emisa de PABLO MIRÓ ROCASOLANO
Licenciat in Economie, Universitatea Autonoma din Madrid (UAM)
e-mail: pablomirorocasolano@hotmail.com