Jacob Marschak, 1898-1977
Economist matematician. Este evreu radical, nascut in Rusia si educat in Germania. Socialist mensevic, prisonier al tarului, ajunge sa fie Ministru al muncii in efemera republica cazaco-mensevica din Tereken, Caucaz. Trebuie sa fuga in Germania unde studiaza cu economisti marxisti in Berlin si Heidelberg, trecand apoi la prestigiosul (pe atunci) Institut din Kiel.
In timpul anilor douazeci si treizeci isi dezvolta ideile in camp marxist: propune sistemul marxist pentru ca este mai eficient decat cel capitalist in fixarea preturilor si spune ca lucratorii cu "gulere albe" trec din punct de vedere economic la clasa proletara.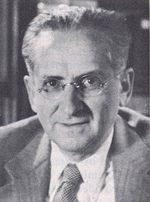 Cand Hitler lichideaza Institutul de Economie Mondial din Kiel, emigreaza in Statele Unite, unde face parte din New School for Social Research. Este director al Cowles Commission din 1943 pana in 1948 si lucreaza la Universitatea din Chicago si la UCLA dezvoltand teoria neo-walrasiana si econometria.
Prestigiul sau este bazat in principal pe lucrarile sale asupra adoptarii de decizii in conditii de incertitudine, in teoria echipelor si organizatiile descentralizate.
Apasati aici pentru a vedea cartile lui
Jacob Marschak
puse in vanzare
Lucrari ale lui Jacob Marschak
"Wirtschaftsrechnung und Gemeinwirtschaft", 1923, Archiv fur Sozialwissenschaft
"Der Neue Mittelstand" cu E. Lederer, 1926, Grundriss der Nationalokonomik. ("The New Middle Class", 1937, WPA)
"Das Kaufkraft-Argumenten der Lohnpolitik", 1930, Magazin der Wirtschaft.
Die Lohndiskussion, 1930.
Elaztizitat der Nachfrage, 1931.
"Annual Survey of Statistical Information", 1933, Econometrica.
The New Middle Class con Emil Lederer, 1937.
"Money and the Theory of Assets", 1938, Econometrica.
"Assets, Prices and Monetary Theory", cu H. Makower, 1938, Economica.
"A Discussion on Methodsen Economics", 1941, JPE.
"Random Simultaneous Equations and the Theory of Production", cu W.H. Andrews, 1944 (Part I) si 1945 (Part II), Econometrica.
"A Cross-Section of Business Cycle Discussion", 1945, AER.
"Mathematics for Economists", 1947, Econometrica.
"Statistical Inference from Non-Experimental Observation: An Economic Example", 1949, Proceedings of the International Statistical Conference
"Rational Behavior, Uncertain Prospects and Measurable Utility", 1950, Econometrica.
"The Rationale of the Demand for Money and of `Money Illusion'", 1950, Metroeconomica
"Optimal Inventory Policy", cu K.J. Arrow si T. Harris, 1951, Econometrica
"Why "Should" Statisticians and Businessmen Maximize Moral Expectation?", 1951, Proceedings of the Second Berkeley Symposium
"Towards an Economic Theory of Organization and Information", 1954, Thrall et al., editores, Decision Processes.
"Note on Some Proposed Decision Criteria", cu Roy Radner, 1954, Thrall et al., editores, Decision Processes.
"Elements for a Theory of Teams", 1955, Management Science
"Experimental Tests of a Stochastic Decision Theory" cu D. Davidson, 1959, Churchman si Ratoosh, editores, Measurement Definitions and Theories
"Efficient and Viable Organizational Forms", 1959, Modern Organization Theory
"An Identityen Arithmetic", cu H.D. Block, 1959, Bulletin of the AMS
"Random Orderings and Stochastic Theories of Responses" cu H.D. Block, 1960, Contributions to Probability and Statistics
"Remarks on the Economics of Information" 1960, in Contributions to Scientific Researchen Management
"Theory of an Efficient Several-Person Firm" 1960, in General Systems
"Binary-Choice Constraints and Random Utility Indicators", 1960, in Arrow, Karlin si Suppes, editores, Mathematical Methods in the Social Sciences.
"Economics of Inquiring, Communicating, Deciding", 1968, AER.
"Economics and Information Systems", 1971, in Intriligator, editor, Frontiers of Quantitative Economics.
Economic Theory of Teams, con Roy Radner, 1972.
Economic Information, Decision and Prediction, 1974.
Jacob Marschak pe Internet