Hyman P. Minsky (1919-1996)
Hyman Philip Minsky, unul dintre cei mai importanti "post-keynesisti americani" s-a nascut la Chicago si a studiat la George Washington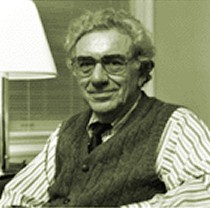 High School din New York. S-a licentiat in matematica la Universitatea din Chicago in 1941, dar s-a interesat dupa aceea de economie si a obtinut doctoratul la Harvard in 1954 specializandu-se in finante.
Minsky a fost profesor la universitatile din California-Berkeley, Brown, Harvard si Carnegie Institute of Technology, dar cea mai mare parte a activitatii sale a realizat-o in departamentul de economie al Universitatii din Washington.
ACESTEA AU FOST CUVINTELE SALE
O caracteristica fundamentala a economiei noastre este ca sistemul financiar oscileaza intre robustete si fragilitate si ca aceasta oscilare este parte integrala a procesului ce genereaza ciclurile in afaceri.
H.P. Minsky, 1974.
Este considerat "keynesist radical" specializat in analiza cauzelor si consecintelor instabilitatii curente a sistemului financiar. Keynes prestase mare atentie instabilitatii pietelor financiare, dar Minsky a fost cel care a explicat cum se dezvolta instabilitatea si cum influenteaza pietele reale. Ideea de baza este ca el e cel care a explicat cum s-a dezvoltat instabilitatea si cum a influentat pietele reale. Ideea de baza este ca in momentele de prosperitate, cand cash-flow-ul intreprinderilor creste peste necesar in plata datoriilor, se dezvolta o euforie speculativa ce conduce la faptul ca camatarii acorda mult mai mult decat vor putea plati creditorii cu veniturile lor. Minsky s-a opus intotdeauna doctrinei economice dominante considerand ca oscilatiile pietelor financiare si crizele provocate sunt inevitabile in economia de piata din cauza faptului ca sunt controlate de guverne si banci centrale.
---
Lucrari
"Central Banking and Money Market Changes", 1957,
"Can "It" Happen Again?", 1963, in Carson, editor, Banking and Monetary Studies.
"Longer Waves in Financial Relations: Financial factors in more severe depressions", 1964, AER.
"The Modeling of Financial Instability: An introduction", 1974, Modelling and Simulation.
John Maynard Keynes, 1975.
"The Financial Instability Hypothesis: A restatement", 1978, Thames Papers on Political Economy.
Can "It" Happen Again? Essays on instability and finance, 1982.
"The Financial-Instability Hypothesis: Capitalist processes and the behavior of the economy", 1982, in Kindleberger and Laffargue, editors, Financial Crises.
"Beginnings", 1985, BNLQR.
Stabilizing an Unstable Economy, 1986.
"The Global Consequences of Financial Deregulation", 1986, Marcus Wallenberg Papers on International Finance.
"Sraffa and Keynes: Effective demand in the long-run", 1988
"The Macroeconomic Safety Net: Does it need to be improved?", 1989, in H.P. Gray, editor, Modern International Environment.
"Schumpeter: Finance and evolution", 1990, in Heertje et al, editors, Evolving Technology and Market Structure.
"Financial Crises: Systemic or Idiosyncratic?", 1991
"Market Processes and Thwarting Systems" with Piero Ferri, 1991
"The Transition to a Market Economy: Financial Options", 1991
"Reconstituting the United States' Financial Structure: Some Fundamental Issues", 1991
"The Capitalist Development of the Economy and the Structure of Financial Institutions"
"The Financial Instability Hypothesis: A clarification", 1991, in Feldstein, editor, Risk of Financial Crisis.
"Financial Instability Hypothesis", 1993, in Arestis and Sawyer, Handbook of Radical Political Economy
"Finance and Stability: The Limits of Capitalism", 1993
"Business Cycles in Capitalist Economies", 1994, MIJCF.
---