Herbert Spencer (1820-1903)
Biolog si sociolog britanic contemporan, apara si-l face popular pe Charles Darwin. A fost primul care a aplicat teoriile darwiniste ale evolutiei campului social. A influentat direct primii economisti evolutionisti cum sunt Thorstein Veblen sau William Graham Sumner. Revenirea actuala a analizelor bio-evolutioniste in economie a atras din nou atentia si respectul economistilor actuali catre figura sa.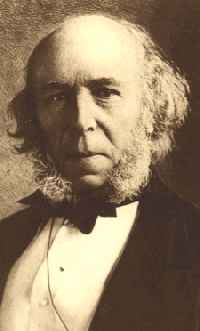 Lucrari ale lui Herbert Spencer
Social Statics, 1851.
The Principles of Psychology, 1855.
First Principles, 1862.
Reasons for Dissenting from the Philosophy of M. Comte
The Principles of Siology, 1876-96.
The Study of Sociology, 1880.
The Man versus the State, 1884.
The Factors of Organic Evolution, 1887.
First Principles, 18??
Essays, Scientific, Political and Speculative, 1892.
"The Inadequacy of Natural Selection", 1893, Contemporary Review
The Principles of Biology, 1894.
An Autobiography, 1904.
---