Graciela Chichilnisky
A obtinut doctoratul in matematica in 1971 si in economie in 1976, ambele la Universitatea din Berkeley. A lucrat la universitatile din Harvard, Essex, Stanford si Columbia.
Astazi este directoarea Departamentului de Informatie, Resurse si Economie a UNESCO. In ansamblul Bancii Mondiale, celebrat in 1995, a propus regularizarea schimbului de emisiuni de carbon prin intermediul Bancii Internationale pentru Acorduri Ambientale , International Bank for Environment Settlements (IBES), propunere ce a fost aprobata posterior de catre 166 de tari prin Protocolul de la Kyoto.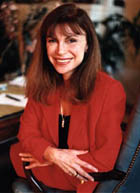 Adresa de contact:
Graciela Chichilnisky
405 Low Library, Columbia University,
Broadway and 116th Street,
New York, NY 10027.
Tf 212 854 7275
Fax 212 854 6309.
email gc@columbia.edu
Din 1985 pana in 1989 a fost CEO al FITEL, o companie financiara internationala de telecomunicatii. A fost consilier pe teme de economie ambientala internationala al OECD, la ONU si la OPEP. A fost membru al consiliului de guvern al Bancii Centrale a Argentinei. Ea este si cea care a creat conceptul de dezvoltare economica dirijata catre satisfacerea necesitatilor bazice.
---
Obras:
The Evolving International Economy (cu G. Heal)
Oil in the International Economy (cu G. Heal)
Critical Essays in Mathematical Economies
"Global Environmental Risks" (un G. Heal)
"North-South Trade and the Global Environment"
"Development and Global Finance: The Case for an International Bank for Environmental Settlements (IBES)"
"The Economic Value of the Earth's Resources"
"The Knowledge Revolution: Its Impact on Consumption Patterns and Resources Use."
---