Gordon Tullock (1922-)
Gordon Tullock s-a nascut la Rockford, Illinois, USA. A studiat dreptul la Scoala de drept din Chicago si a lucrat catva timp intr-un birou de avocati privat si ca avocat al Departamentului de stat. A fost profesor la Universitatile din South Carolina, Virginia, Rice University, Virginia Polytechnic Institute, Virginia State University, George Mason University si Arizona. Astazi este profesor de Economia dreptului la Center for Political Economy creat de Buchanan la George Mason University.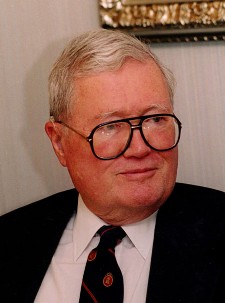 In 1966 Tullock a participat ca editor la fondarea revistei Journal of Non-Market Decision Making, numita mai tarziu Public Choice. Este si fondatorul Center for Studies in Public Choice. A fost presedintele diferitor societati stiintifice: Public Choice Society, European Public Choice Society, Southern Economic Association si Western Economic Association. In 1998 a fost desemnat ca Distinguished Fellow of the American Economic Association.
In cele douazeci si trei de carti si sute de articole, a analizat campurile alegerii sociale, economia dreptului si bioeconomia. Este unul din numele cele mai importante ale Noii Economii Institutionale si al Economiei Politice Constitutionale.
In cartea sa "Calculul consensului" scrisa impreuna cu James Buchanansu, analizeaza problema costurilor de adoptare a deciziilor politice: adoptarea de decizii are unele costuri de tranzactie ce sunt mai mari cu cat mai mare este numarul indivizilor implicati, dar in acelasi timp cu cat ne apropiem de unanimitate, cu atat mai mici sunt costurile externe pe care unii indivizi le pot impune altora sau societatii. Calculul consensului trebuie sa minimizeze suma ambelor tipuri de costuri.
Alt concept ce-si are originea in lucrarile lui Gordon Tullock este cel al societatii de cautatori de venituri. Se utilizeaza expresia "cautatori de venituri" pentru a ne referi la grupurile de interes ce incearca sa influenteze deciziile politice pentru ca regulile sa se elaboreze si interpreteze in propriul lor beneficiu. Gordon Tullock a demonstrat ca in orice sistem ce permite adoptia de decizii prin intermediul majoritatilor neunanime va fi posibila si va avea o tendinta ca, prin schimbul de voturi, se ajung la coalitii de grupuri de interes majoritare ce reusesc sa aprobe proiecte de care beneficiaza chiar daca costurile totale sunt mai mari decat beneficiile totale rezultate. Costurile generate de acest tip de activitati au fost numite "costuri ale cautatorilor de venituri" sau "costuri Tullock".
---
Lucrari
The Calculus of Consent: Logical foundations for constitutional democracy, cu J.M. Buchanan, 1962.
The Politics of Bureaucracy, 1965.
"The Welfare Cost of Tariffs, Monopolies and Theft", 1967, Western EJ
"Social Cost and Governmental Action", 1969, AER
"Public Decisions and Public Goods", 1971, JPE
Apasati aici pentru a vedea cartile lui
Gordon Tullock
puse in vanzare
"The Paradox of Revolution", 1971, Public Choice
The Logic of the Law, 1971.
"The Edge of the Jungle", 1972, en Tullock, editor, Explorations in the Theory of Anarchy
The Social Dilemma: the economics of war and revolution, 1974.
"A New and Superior Process of Making Social Choices", cu T.N. Tideman, 1976, JPE
Autocracy
Economics of Income Redistribution
The New World of Economics, con R.B. McKenzie, 1978.
Trials on Trial: the pure theory of legal procedures, 1980.
"Efficient Rent Seeking", 1980, in Buchanan si altii, editor, Toward a Theory of the Rent-Seeking Society
"Federalism: problems of scale", 1981, en Grewal, editores, Economics of Federalism.
The Organization of Inquiry
"Smith v. Pareto", 1999, Atlantic EJ