Frederic S. Mishkin (1951 - )
Frederic S. Mishkin este profesor de Institutii Bancare si Financiare la Columbia University si autor al celei mai vandute carti de texte din acest domeniu.
Mishkin este specializat in politica monetara si in impactul acesteia asupra pietelor financiare si economiei agregate.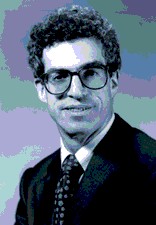 Si-a obtinut doctoratul la Massachusetts Institute of Technology in 1976. A fost profesor la universitatile din Chicago, la Northwestern University, Princeton University si Columbia. A apartinut sau apartine corpului de editori ai urmatoarelor reviste: American Economic Review, Journal of Business and Economic Statistics, Journal of Applied Econometrics, la Economic Policy Review a Federal Reserve Bank of New York, Journal of Money, Credit and Banking, Macroeconomics and Monetary Economics Abstracts, Journal of International Money and Finance, International Finance, Finance India, Economic Policy Review, si Journal of Economic Perspectives.
Este si investigator al National Bureau of Economic Research si a lucrat pentru Board of Governors al Federal Reserve System, Banca Mundiala, el Fondo Monetario Internacional, Federal Reserve Bank of New York si Federal Open Market Committee of the Federal Reserve System. Este profesor onorific al Universitatii Populare din China la Renmin.
---
Lucrari

The Economics of Money, Banking and Financial Markets, 6th Edition (Addison Wesley Longman, 2001)

Inflation Targeting: Lessons from the International Experience (Princeton University Press, 1999), in colaborare cu altii.

Financial Markets and Institutions, 3rd edition (Addison Wesley Longman, 2000),

A Rational Expectations Approach to Macroeconometrics: Testing Policy Ineffectiveness and Efficient Markets Models (University of Chicago Press, 1983)

---

Coordonate:

Graduate School of Business
Columbia University
Department of Finance and Economics
Uris Hall 619
3022 Broadway
New York, NY 10027
Telefon: 212-854-3488
Fax: 212-316-9219
e-mail: fsm3@columbia.edu

---