Ernest Mandel, 1923-1995
Economist belgian, nascut la Bruxelles, si activist politic, conducator al Internationalei a IV, de tendinta trotkista.
Specialist in teoria crizelor, a anlizat in profunditate tendintele capitalismului monopolist.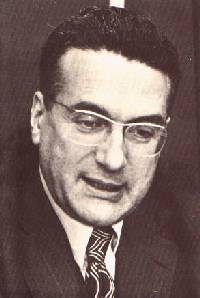 A criticat si in timpul sistemului sovietic, denuntand conflictul dintre lucratori si conducatorii lor, pe care nu-i considera clasa sociala ci pelerina birocratica a proletariatului.
---
Alte lucrari:
Marxist Economic Theory, 1962.
Formation of the Economic Thought of Karl Marx, 1967.

Apasati aici pentru a vedea cartile lui
Ernest Mandel

puse in vanzare

Late Capitalism, 1972.
The Second Slump: A Marxist Analysis of Recession in the Seventies, 1977
Long Waves of Capitalist Development: The Marxist interpretation, 1980
Criza 1974-1982, 1982.
The Marxist Theory of Bureaucracy, 1990.
---