Colin G. Clark, 1905-
Colin Grant Clark s-a nascut in Queensland, Australia. S-a format la Oxford unde a lucrat in diferite ocazii de-a lungul vietii sale. Intre1937 si 1952 a ramas in tara sa.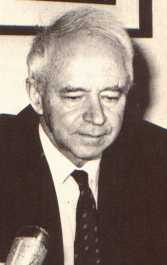 Ca statistician a organizat o gigantesca si pioniera colectie de date macroeconomice. A inceput cu date ale veniturilor britanice publicate in 1932, trecand apoi la analizarea datelor din intreaga lume pe care le-a publicat in 1939, in Conditions of Economic Growth unde a semnalat importanta diferenta dintre tarile bogate si cele sarace. Posterior s-a dedicat economiei dezvoltarii, reflectand rolul cresterii populatiei mai mult decat pe cel al cresterii datorate investitiilor.
---
Lucrari
The National Income, 1924-31, 1932.
National Income and Outlay, 1937.
"International Comparisons of National Income", 1938, WWA
"The Determination of the Multiplier from National INcone Statistics", 1938, EJ
A Critique of Russian Statistics, 1939.
Conditions of Economic Progress, 1939.
The Economics of 1960, 1942.
"Public Finance and Changes in the Value of Money", 1945, EJ
"World Supply and Requirements of Farm Products", 1954, J of Royal Statistical Society
Growthmanship, 1961.
Economics of Subsistence Agriculture, in colaborare cu M.R. Haswell, 1964.
Population Growth and Land Use, 1967.
Starvation or Plenty?, 1970.
Poverty Before Politics, 1977.
The Economics of Irrigation in colaborare cu J. Carruthers, 1981.
Regional and Urban Location, 1982.
---