( 1930-2017 )
Nacida en Cernowitz, Rumanía, en marzo de 1930. Fue educada en Estados Unidos obteniendo todos sus títulos universitarios en la Universidad de California en Berkeley. Ha sido profesora en Berkeley, Stanford, John Hopkins, Northwestern, Maryland y en Leiden (Holanda). Ha trabajado también para el Banco Mundial.
Sus contribuciones más notables a la economía buscan la aplicación de modelos matemáticos para la planificación del desarrollo. Ha empleado técnicas de análisis de multivariables para estudiar interacciones entre las fuerzas políticas, sociales y económicas en los países en desarrollo.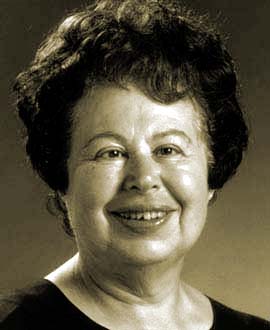 Curriculum
Professor en la Graduate School, University of California, Berkeley, 1977-actualidad
Cleveringa Professor, Leiden University, The Netherlands, 1977-actualidad
Fellow, Institute for Advanced Study in Behavioral Sciences, 1971
Professor, University of Maryland, 1973-78
Senior Economist, World Bank, 1972
Professor, Northwestern University, 1966-71
Associate Professor, Johns Hopkins University, 1962-65
Visiting Assistant Professor, Stanford University, 1960-61
Visiting Assistant Professor, Mills College, 1959
Instructor, Lecturer, and Visiting Professor, University of California, Berkeley, CA 1956-58.
Página personal
http://are.berkeley.edu/~adelman/
OBRAS:
"Dynamic Properties of the Klein-Goldberger Model", con F.L. Adelman, 1959, Economica
Theories of Economic Growth and Development, 1961.
"An Econometric Analysis of Population Growth", 1963, AER
"Foreign Aid and Economic Development: The case of Greece", con H.B.Chenery, 1966, REStat
The Theory and Design of Economic Development, 1966.
Society, Politics and Economic Development: a quantitative approach, con C.T. Morris, 1967.
Economic Growth and Social Equity in Developing Countries, con C.T. Morris, 1973.
"Strategies for Equitable Growth", 1974, Challange
"Development Economics: a reassessment of goals", 1975, AER.
"Growth, Income Distribution and Equity-Oriented Development Strategies", 1975, World Development
"Policies for Equitable Growth", con C.T. Morris, y S. Robinson, 1976, World Development
Income Distribution Policy in Developing Countries: A case- study of Korea, con S. Robinson, 1977.
"Growth and Impoverishment in the Middle of the 19th Century", con C.T. Morris, 1978, World Development
Redistribution Before Growth: A strategy for developing countries. 1978.
"Beyond Export-Led Growth", 1984, World Development
"A Poverty-Focused Approach to Development Policy", 1986, en Lewis, editor, Development Strategies Reconsidered
"Confessions of an Incurable Romantic", 1988, BNLQR.
Comparative Patterns of Economic Development, 1850-1914, 1988