Sebastian Edwards ( 1953- )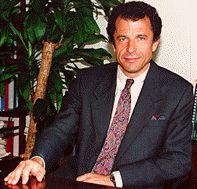 Sebastian Edwards, nacido en Santiago de Chile. Estudió en la Universidad Católica de Chile y se licenció y doctoró en economía por la Universidad de Chicago. Trabaja en el Departamento de Economía en UCLA.
Ha trabajado en el Banco Mundial como economista jefe para América Latina y el Caribe (1993-1996). Ha trabajado también para el Banco Inter-Americano de Desarrollo, el FMI y la OCDE. Es coeditor del Journal of Development Economics. Sus campos principales de estudio son la Economía Internacional y Economía del Desarrollo.
Entrevistas en castellano a Sebastian Edwards:
E-Mail:
sebastian.edwards@anderson.ucla.edu
Libros recientes de Sebastian Edwards
Anatomy of an Emerging-Market Crash: Mexico 1994, Carnegie Endowment for International Peace, 1997

Labor Markets in Latin America: Combining Social Protection with Market Flexibility, Brookings, 1997.

Crisis and Reform in Latin America: From Despair to Hope, Oxford University Press, 1995.
Trabajos recientes:
Año 2000
Año 1999
Año 1998
Año 1997
The Mexican Peso Crisis? How Much Did We Know? When Did We Know It?, Dec, 1997 (A revised version was published in The World Economy, 1998)

Banks and Macroeconomics Disturbances under Predetermined Exchange Rates, (Joint with Carlos A. Vegh, UCLA), Mar, 1997 (A revised version was published in the Journal of Monetary Economics, 1997)

Openness, Productivity and Growth: What Do We Really Know?, Mar, 1997 (A revised version was published in The Economic Journal, March 1998)
Año 1996